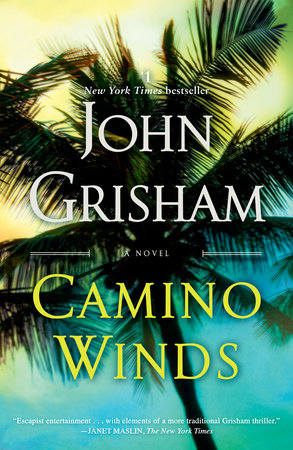 by John Grisham
8/10
Just as Bruce Cable's Bay Books is preparing for the return of bestselling author Mercer Mann, Hurricane Leo veers from its predicted course and heads straight for Camino Island. Florida's governor orders a mandatory evacuation and most residents board up their houses and flee to the mainland, but Bruce decides to stay and ride out the storm.
When the devastating storm ends, Bruce Cable finds one of his writers dead. He and a few friends begin to suspect that the death was not the result of the storm, but a well-orchestrated murder. But who, and most importantly, why?
Camino Winds is the first book out of several I've picked up in the past few months, that I read all the way through, and with enthusiasm. John Grisham is proof that quality writing still exists somewhere in this world.
I will never turn down the opportunity to at least try reading a book by a new or unheard of (to me) author. However, there is something to be said for counting on the literary skills of your favorite, established authors, and John Grisham never disappoints.
This novel, which is a sequel to Camino Island, picks up with the return of all the characters of the previous novel. I highly recommend reading Camino Island first before picking up this sequel.
The reason I only gave Camino Winds an 8/10 is because it is not Grisham's usual nail-biting page-turner like many of his other books, but still, it is difficult to put down.
John Grisham has a unique ability to hold onto your attention and keep you reading even when the action hasn't yet reached its peak. Please let me make myself clear. This book is not boring. Grisham takes his time setting the stage for the moment when the action/suspense/intrigue takes off, about halfway through the book.
It is all necessary information towards moving the plot. John Grisham does it with such ease and fluid prose that the reader goes along willingly, waiting with baited breath, for that moment when the action begins to fly.
The boos takes a break from his usual in-depth legal plot lines and instead follows characters who are not necessarily familiar with the justice system. It's a refreshing point of view as seen from the eyes of relatively ordinary people caught in a legal scandal that is not defined in black and white legalities, but in shades of gray on the fringes of what is defined by the law.
In Camino Winds, John Grisham has created yet another unforgettable story that satisfies everything the hungry reader wants and adores.